Honda Gas Up your Summer
Posted on Apr 11 2016
Raffle Mechanics
I. Eligibility
a. All customers who inquire, test drive, reserve and purchase any Honda automobile during "Honda's Gas Up Your Summer Nationwide Test Drive" event are qualified to join the raffle promo.
b. Employees of Honda Cars Philippines, Inc., all authorized Honda dealership in the Philippines, its Advertising/PR agencies, and its accredited service providers including their relatives up to the second degree of consanguinity or affinity are disqualified from joining the promo.
II. Promo Coverage/Duration
a. Promotion coverage is nationwide, encompassing all Authorized Honda Cars Philippines, Inc. Dealer Network.
b. Promotion duration is from April 6 - 30, 2016 only.
III. Mechanics
a. Raffle Entry
1. Customers may participate in one (1) or more dealership(s).
2. After each inquiry / test drive / reservation / sale, customers will be given raffle coupons to fill-out for a chance to win a pre-loaded PETRON gas card with either of the following denomination:
| | |
| --- | --- |
| P50,000 | Two (2) winners |
| P20,000 | Five (5) winners |
| P10,000 | Thirteen (13) winners |
| P5,000 | Thirty (30) winners |
| P2,000 | Fifty (50) winners |
3. All raffle coupons are required to be completely and properly filled-out, and customers may drop their raffle entry at the designated drop box located at the dealership.
4. Drop boxes shall be located in all Authorized Honda Cars Philippines, Inc., dealership nationwide.
b. Coupon Distribution
Eligible participants shall be given the corresponding quantity of raffle coupons for each model they've inquired, test driven, reserved, and/or purchased as seen on the table below:
| | |
| --- | --- |
| Customers Transaction | Raffle Coupons |
| Inquiry | 1 |
| Test Drive | 5 |
| Reservation | 10 |
| Sales | 15 |
c. Prizes
There will be one hundred (100) unique winners of pre-loaded PETRON gas cards nationwide for the month of April.
d. Deadline
Deadline of submission of entries for the raffle draw is on May 9, 2016 (Monday).
Entries submitted after the deadline period will not be honored.
e. Draw Date
The raffle draw will be held on May 13, 2016 (Friday) from 10:00AM - 11:00AM at Department of Trade and Industry. Region IV-A with the supervision of DTI officer.
f. Determination of Winners
Drawn winners may only win once for the duration of the raffle program, in the event that a participant is drawn more than once, the second draw shall be declared null and void, and the other prize shall be raffled off.
IV. Transferability
Prizes are transferable for fleet/company accounts and the registered company name shall be the official winner. However, the fleet/company may officially assign a recipient of the raffle prize.
V. Prize claiming and other guidelines
The winner may claim their prize at the dealership which they participated in.
In case the winner is not present during the raffle draw, an HCPI representative will notify the winner through registered mail and phone calls on how and when they can claim their prize at the dealership.
List of winners will be published digitally by HCPI through Hondaphil website (hondaphil.com) and through social networking sites (Facebook and Twitter) by March 18, 2016.
Winners will be given sixty (60) days upon receipt of notification to claim their prize and after the sixty (60) day claiming period, unclaimed prizes will be forfeited in favor of HCPI with prior DTI approval.
Winners must bring the raffle stub and a government issued ID (e.g. driver's license, SSS card, passport, birth certificate, etc.).
See posters for more details. Per DTI IV-A Permit # 04-119, Series of 2016.
Honda offers Honda Summer Check 2016 to their valued customers this summer season
Posted on Mar 20 2016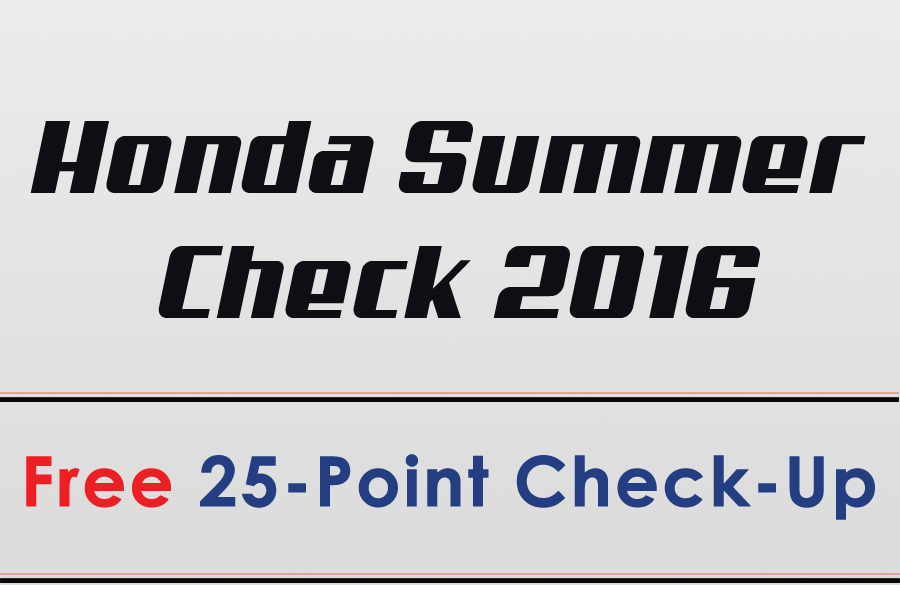 Honda Cars reaches out to its valued customers this summer season through the Honda Summer Check 2016. It is a free 25-point check up designed to ensure the safety and road worthiness of Honda vehicles.
The free 25-point check up is inclusive of the following services for the interior, exterior, engine room, and underchassis of the Honda vehicles:
INTERIOR (7)
EXTERIOR (5)
ENGINE ROOM (9)
UNDERCHASSIS (4)
1. Warning Lamps
2. Electrical System
3. Horn
4. Steering Wheel
5. Pedals
6. Parking Brake
7. Interior Lights

1. Wiper Blades
2. Wiper Nozzle
3. Exterior Light
4. Tires
5. Body Panes

 

1. Fluids (engine oil, power steering oil, coolant, automatic transmission fluid, washer fluid, brake fluid)
2. Drive Belts (power steering, alternator, air-con belts)
3. Battery
4. Starter
5. Air-cleaner
6. Cylinder Head Cover
7. Power Steering Pump
8. Radiator
9. Brake Master and Lines

1. Visual Checking Front and Rear Brakes
2. Rubber Support
3. Shock Absorbers
4. Boots
To avail of the free 25-point check up, customers may call their chosen Honda dealership to set an appointment.
In addition to the free 25-point check up, customers will also receive one (1) Cheers to 25 Years Raffle Promo coupon upon service check up on appointment date, a Microtex Cleaning Kit for a minimum purchase worth Php 1,000 of parts and services, and additional Cheers to 25 Years Raffle Promo coupons for every Php 5,000 purchase of parts and services.
The free 25-point check up is offered at all authorized Honda dealerships nationwide, and only takes about 30 to 40 minutes to be completed. Any additional services, such as part replacement or vehicle repair will be subject to the customer's approval prior to execution. This exclusive service is only offered until March 31, 2016.
Find out more about Honda Summer Check 2016 by visiting our Honda dealership.